Added to the woes of the derelict
ex-HMCS CORMORANT
(ASL 20) is her capsize at the former Bridgewater Government Wharf this past week.
Ex-HMCS CORMORANT capsized at the former Government Wharf in Bridgewater, NS.
Although she still appeared to me to be afloat, she has listed in the range of 45 degrees from the vertical (far enough to expose her port bilge keel), and CTV is reporting a CCG statement that she is on the bottom and not moving with the tide
http://www.ctvnews.ca/canada/concerns-over-pollutants-after-ex-navy-ship-topples-in-n-s-harbour-1.2291416
. Perhaps her starboard bilge keel is in contact with the bottom.
Ex-HMCS CORMORANT listing in the range of 45 degrees. Her port anchor is deployed.
Snow load is being blamed for heeling her far enough to take on water that caused her to sink.
A view of the snow buildup on CORMORANT.
The snow buildup, even in her listed condition, seems fairly even across her beam, so I am not sure how this is causing her list.
A Bridgewater Fire Department crew is working to remove the snow and ice buildup with a fire hose.
Snow and ice are being removed by the Bridgewater Fire Department with a fire hose so that no one has to board her in her current state.
CORMORANT has been laid up in Bridgewater since she arrived in 2002 under tow by the tug
Swellmaster
. Prior to that she was laid up in Shelburne, NS, and I'm not sure where she was prior to that, and after being paid off by the Navy.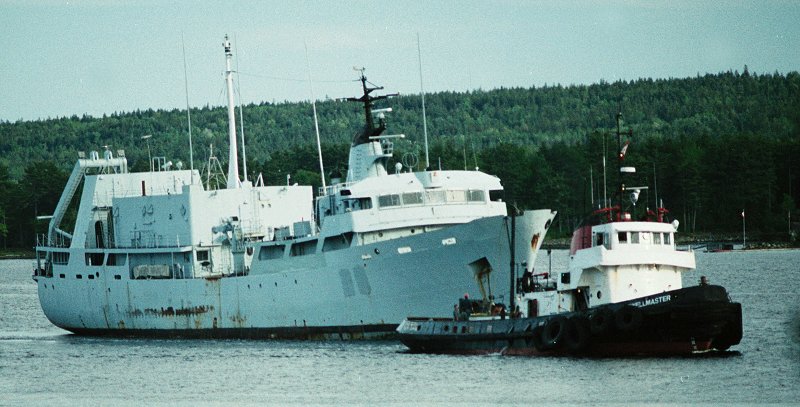 Ex-HMCS CORMORANT arriving on the LaHave River in 2002. She sheered wildly behind her tug. © Sandy McClearn
CORMORANT still has one of her old submersibles on board in the hangar at her stern. Presumably it would have been well stowed, as it would have had to withstand CORMORANT rolling around at sea when she was in service.
Ex-CORMORANT in 2013.
Cape Rouge on the bottom.
Almost exactly a year ago, it was the laid up fishing boat
Cape Rouge
that sank at the same former Government Wharf and went to the bottom. She was refloated, and still sits alongside the wharf two berths back from CORMORANT.