IROQUOIS alongside in HMC Dockyard this morning.
Halifax Shipping News
is reporting that HMCS IROQUOIS (DDG 280) will be officially paid off in a ceremony on the afternoon of May 1. She is already listed as "Retired" on the Navy's website, and her impending paying off was announced last year after her hull was discovered to be suffering from cracking and corrosion brought on by pounding around on the North Atlantic for more than 40 years. She was deployed at the time, and as I recall, was inspected in Boston to determine the extent of the cracking before returning to Halifax. I don't think she has been underway under her own power since her return.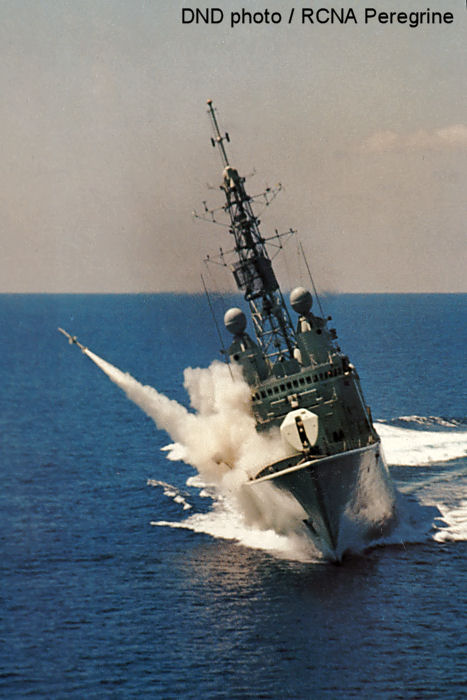 IROQUOIS launching a NATO Sea Sparrow missile from her original missile launcher. DND photo, courtesy of RCNA Peregrine.
Laid down in 1969, launched in 1970, and commissioned in 1972, IROQUOIS was the lead ship of the
IROQUOIS class of ASW destroyers
, and was originally designated as a DDH denoting a helicopter carrying destroyer. In the photo above, her original appearance is dominated by the 5"/54 OTO Melara gun on foc'st'le and the large globes of the two Signaal WM-22 fire control directors above her bridge. Her armament was rounded out by NATO Sea Sparrow anti-aircraft missiles launched from a one-of-a-kind launcher in a deckhouse ahead of the bridge, two Mk.32 triple torpedo launchers for Mk.46 ASW torpedoes, and a 3-barreled Limbo ASW mortar in a well immediately behind the flight deck. She could also carry two CH-124 Sea King helicopters in side-by-side hangar bays to augment her ASW capabilities.
IROQUOIS departing Halifax Harbour, as seen from Chebucto Head.
Along with the rest of her class, she was refitted in the early to mid-1990s as an
area air defence destroyer
. The 5" gun was replaced by a 29 cell Mk.41 vertical launch system for Standard SM-2MR anti-aircraft missiles, and a smaller 76mm OTO-Melara gun was installed on top of a deckhouse in the location of the earlier Sea Sparrow launcher. The Limbo was removed, and various sensors and equipment were replaced, greatly altering their appearance. Somewhere along the line her designation was changed from DDH to DDG, although it was my impression that even the Navy continued to refer to them by the DDH designation for some time after the refits.
IROQUOIS passing the light on George's Island.
Her paying off after 42 years of active service leaves the Canadian Navy without area air defence capability, as the Evolved Sea Sparrow Missiles (ESSM) currently carried by the modernized HALIFAX class frigates, while capable, are unable to provide the same kind of umbrella protection of an area air defence weapon. This capability will not be replaced until (and if) the promised replacements arrive as part of the National Shipbuilding Strategy sometime in the 2020s. Fortunately, the modernized HALIFAX class at least has been refitted with command and control facilities to emulate those found in the destroyers.
Of this class, only ATHABASKAN remains in service.
I will end this post with some more of my favourite photos of IROQUOIS from years past.
IROQUOIS leads VILLE DE QUEBEC and HALIFAX into a sunrise in November 2013. Perhaps it would have been more appropriate to be a sunset, but you can't have everything.
IROQUOIS passing the light on McNab's Island at dawn.
IROQUOIS launches her Sea King on her return from a NATO deployment in 2006.
Also a sunrise, darn it!